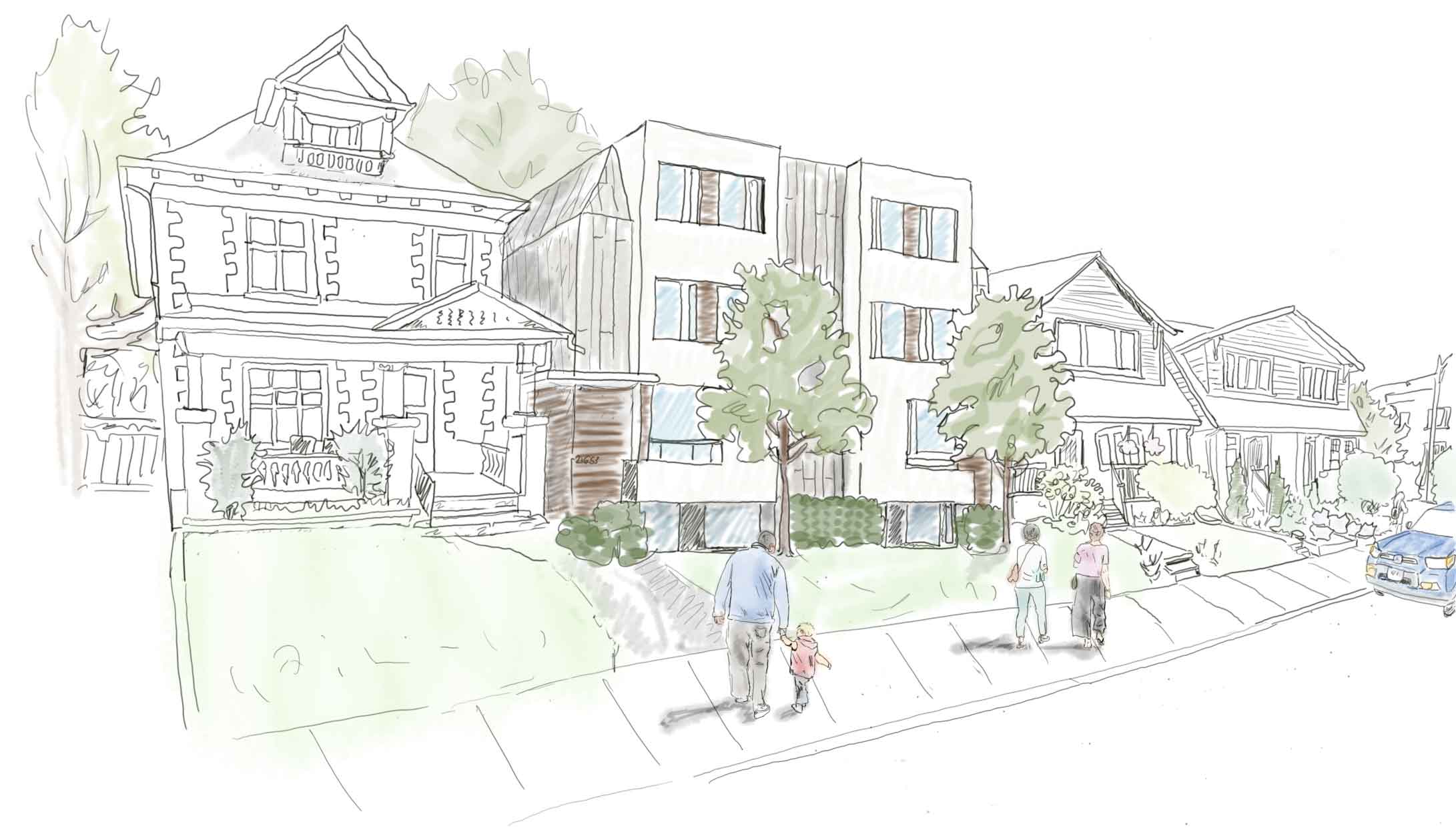 2165 Gerrard St – A Healthy House Apartment Project
The project planned for 2165 Gerrard St. E. in Toronto will be built on a conventional 50 foot urban lot, replacing a single detached house. It is made possible, in part, by recent amendments to the Toronto Zoning Bylaw allowing laneway suites at the rear of a residential property, where applicable. By eliminating the car-focused parking requirements of traditional residential development projects, the laneway suite bylaws allow for the building of additional housing in spaces that have historically been reserved exclusively for cars.
Project design is by Architect Cheryl Atkinson
Project management is by Rolf Paloheimo of Creative Communities
Planner is Sean Galbraith.
This project has been designed entirely within the City of Toronto's zoning bylaws and building requirements. Gross floor area, building height, and setbacks are all allowed as of right, and this project does not trigger the rezoning, site plan approval, or official plan amendment processes. Notwithstanding an application for consent to sever the property to create two lots, there are no variances needed.
Our Healthy House project includes two semi-detached fourplexes, each with four two-bedroom apartments and a three-bedroom laneway house at the rear. In all, there are ten suites in the development, all with in-suite laundry and two bathrooms, and no unit is smaller than 900 sq. ft. Each suite will have direct access to the street, and there will be yard access or large private balconies in every unit.

A streetcar stop on the 506 Carlton line that runs along Gerrard, Carlton, and College is a few doors west on Gerrard, the Danforth GO station is a 7 minute walk, and Main subway station is a 10 minute walk. Woodbine avenue is a three minute bicycle ride west on Gerrard and has a north/south bicycle lane that connects to Dundas in the south, the the new Danforth bike lanes and Don Valley cycling trail network in the north. Safe bicycle parking will be a feature of the development.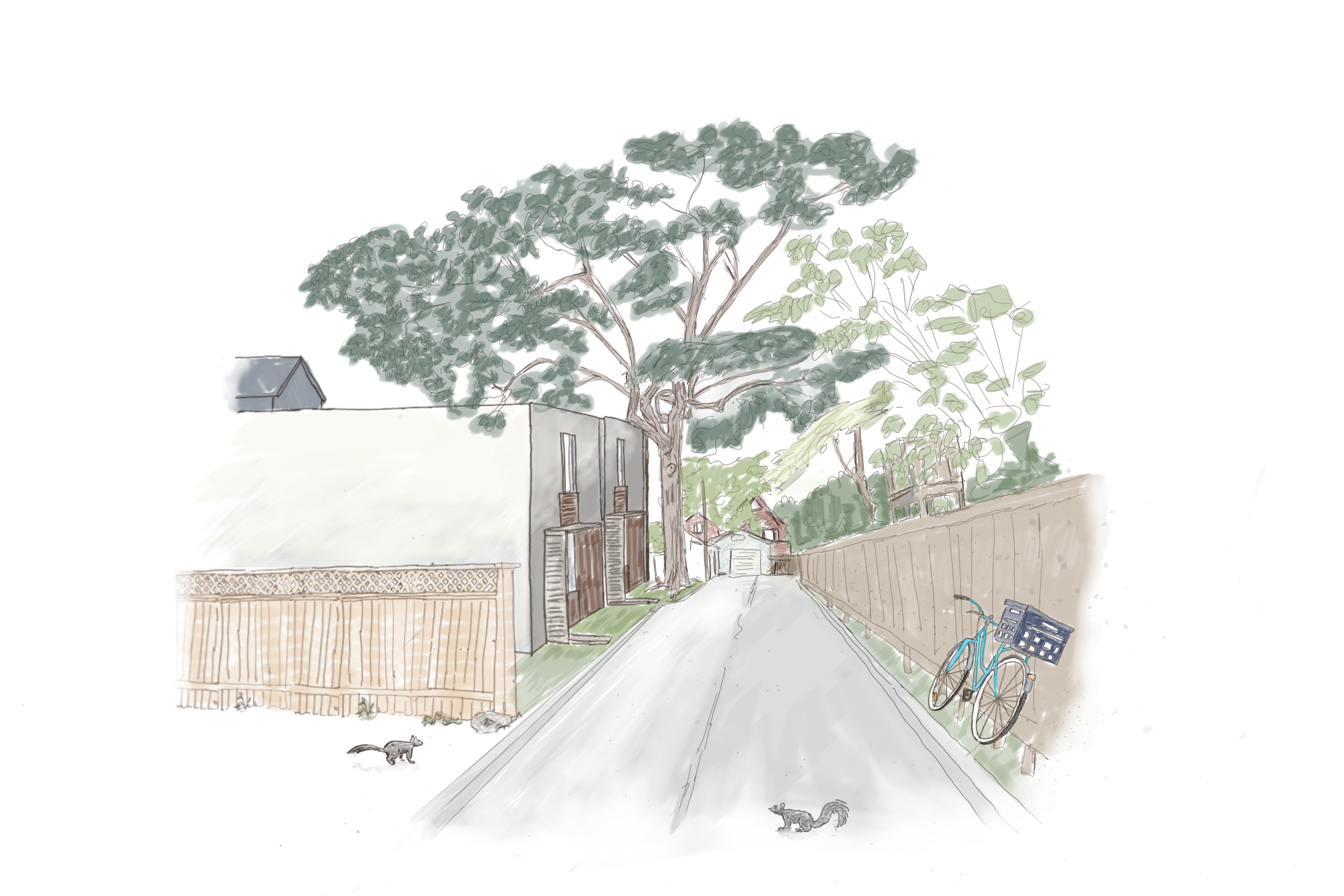 The Gerrard St Healthy House Apartments will be developed and certified to the 'Passive House' standard. This standard is characterised by an especially high level of thermal comfort with minimum energy consumption. With careful modelling of the thermal performance of a home, HVAC equipment can be minimized and internal comfort maximised. Each unit will have its own electrical meter responsible for heating, air conditioning, and hot water; no gas lines will be brought to the building. Hydro bills project to be less than $60 a month for most tenants.
To allow for the most efficient and high performance construction, we will use manufactured panels for the building envelope. In combination with a Passive House certified design, the project will be built to a very high standard, and subjectively, will be the most comfortable apartment any of our tenants has ever had.
Low-Carbon Lifestyle
These homes will make it easy to live a low-carbon lifestyle. Located on public transit with easy car-free access to downtown and the rest of the city, there are cafes, grocery stores, parks, and other amenities close by. Living car-free and sustainably in these high-performance homes will come naturally.
Electricity generation in Ontario is now 90% from low-carbon sources, and so is the cleanest source for home energy needs. By using electricity as the sole energy source and a full suite of energy efficient equipment and appliances, these units will be both affordable and green.
The energy target for Passive House is 15 kWh per square meter floor area per year, for this project total energy use should be less than 15,000 kWh a year, given current electricity prices this projects to an average bill for the tenants of under $50 a month.
Low-Carbon Construction
The project will be designed with conventional wood construction techniques, widely considered to be the most environmentally sustainable method. The project is designed to be a net carbon sink rather than a generator of new CO2 emissions from its construction.
To avoid the use of carbon-intensive concrete, the development will use a preserved wood foundation (PWF). Concrete foundations have a significant carbon dioxide footprint, and are difficult to insulate to Passive House standards. A PWF system allows for easier insulation, with utilizing more sustainable and cost-efficient materials.
Efficient Development
This project has a number of elements that create value:
Easy planning approval
Lower development charges from the city
Developed with a collaborative, value engineering approach
Built with easy and affordable "stick built" construction methods
The manufactured panel system lowers the construction cost and speeds the schedule
Each property can be marketed for sale individually
No parking is required